If you're looking for a hobby that is both creative and easy to get into, wood carving could be the perfect one for you. It is one of the oldest crafts in the world and requires basic wood carving tools such as a sharp knife too, some chisels, and a wooden mallet.
You don't have to spend a lot of money on fancy equipment or take classes to become proficient in wood carving; all you need is basic wood carving tools and some inspiration. Not only can it be enjoyable and therapeutic, but expressive as well: whether it's simple wood carvings like small animals or intricate sculptures, every piece can tell a unique story. So, why not give wood carving a try?
Wood carving is an ancient art form that has been practiced throughout history. By simply shaping wood with a whittling knife or power tools, we can create beautiful items like wood carving spoons and small figurines.
When it comes to wood carving, the best place to start for a beginner might be to attempt their first wood carving project. Starting out with a simple project allows the individual to learn and get better at wood carving over time. Furthermore, completing this first project provides an immense amount of pride and motivation to take on more challenging tasks in the future. Easy wood carving projects in our article.
Ancient humans crafted intricate wood carvings from the simplest tools. From a primitive spearhead to a delicate woolly mammoth carving, these early artisans demonstrated their skill and creativity with nothing more than sharp stones walking sticks! Even without today's advanced technology, they managed to produce remarkable works of art.
During the Middle Ages, woodworking flourished in a multitude of European cultures. From elaborate religious iconography to whimsical depictions of children's stories and cherished memories kept alive with caricatures – extraordinary examples of artistry have been preserved throughout Germany, Italy, France and Russia!
African, Asian and Polynesian cultures have been crafting wood for centuries. Though little remains of their ancient artistry, it is known that civilisations from across the world once traded in intricate carvings which included tribal figureheads, fertility statues and more – believed to grant boons or protection when kept close by.
Carving wood by hand is an art form with a long, rich history that has been used to create stunning works around the globe. It requires immense patience and strength of character – it's no surprise that many cultures have revered this skill as something special! Although modern technology has made crafting easier in recent years, carving wooden pieces using traditional tools such as knives or chisels still demands hours of concentrated attention for masterful results.
Wood carving is a timeless skill with multiple benefits, ranging from creating pieces to admire yourself or gift others, and extending even further as transferable knowledge in other industries. It's also immensely enjoyable! From intricate sculptures to simple designs – there are many wood carving ideas perfect for all levels of experience.
Wood Carving Ideas
From the beginning of time, wood carving has been an integral part of human culture. To help you bring this ancient art into your life, we've put together a selection of awesome projects – from beginner-friendly to expert level! So pick up some tools and find the perfect spoon carving project for you today.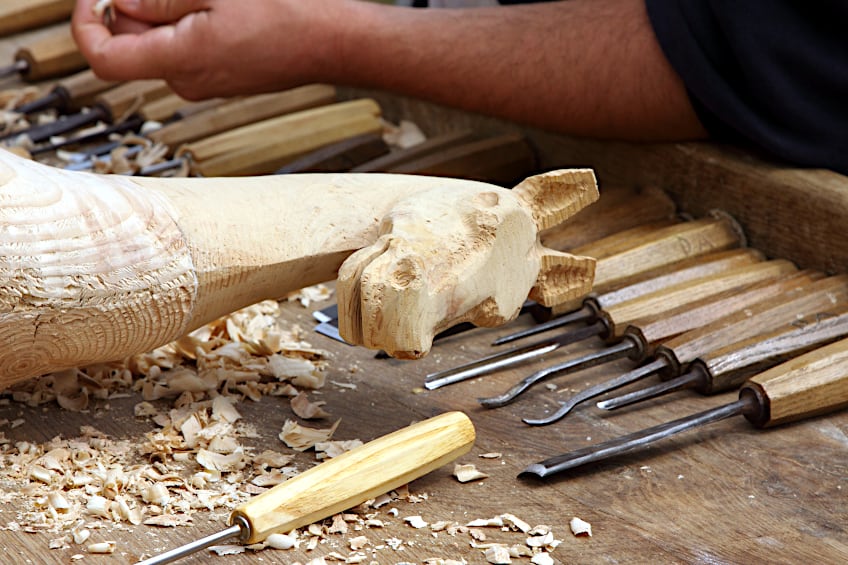 Beginner Wood Carving Projects
Unleash your creativity and explore the world of wood carving! From a small business to just an enjoyable pastime, all that is needed are creative ideas, some simple tools like a knife – and you're set for projects easy enough even for beginners. So why not start today with these fun yet profitable DIYs?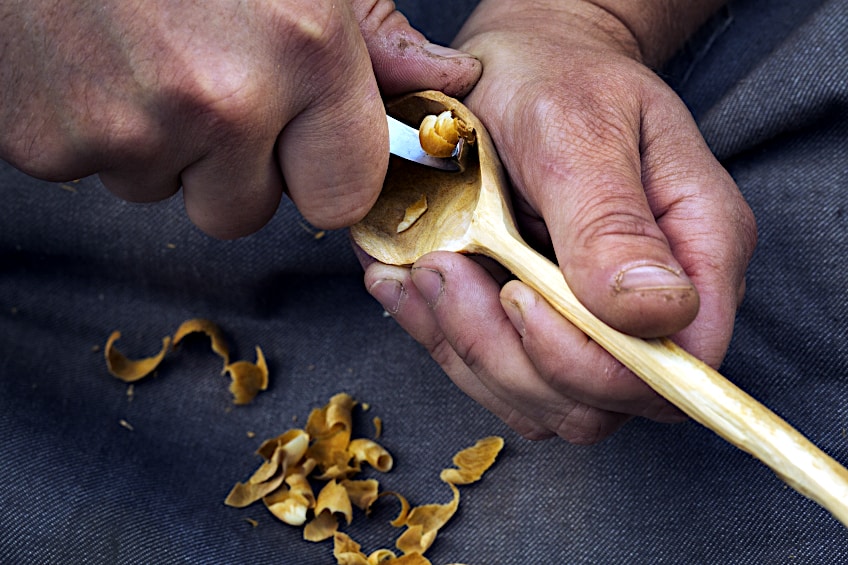 1.A Wooden Spoon Set
Wood carving can be a fun and easy hobby to get into, even for those just starting out. Spoons are the perfect project: not only does their simple shape and flat surface make them relatively straightforward to craft; but you also have options of what do with your finished product – either use it or adorn yourself with some unique artwork! After all, who doesn't love getting creative?
Take your first steps into the world of wood carving and create a unique gift for someone special with carved spoons! Not only is this craft fun, it allows you to make something truly personalized – choose whatever shape, size, length or even color catches your eye. Don't forget to seal them after they are ready though; if not they won't last long when exposed to foodstuffs. Why not show off what you can do by giving away one (or some!) as gifts? It could be just the thing that sparks joy in their life – so go ahead and get creative!
2.A Wooden Bowl
Unleash your creativity with wooden bowls! Start with a decently-sized block of wood and craft it into any size or shape to fit your vision. From there, the possibilities are endless – you don't even have to worry about carving a handle like wooden spoons would require. It's never been easier to express yourself through easy woodcarving ideas than by making an amazing bowl!
Unleash your creativity with an easy wood carving project! A wooden block is the perfect place to start–just pick a type of wood that's simple to cut through and you can go wild. Try painting, staining, engraving (or all three!) for colorful results – or add some fun trinkets like beads or shells if desired. With minimal tools necessary and endless decorative possibilities, get ready to make something beautiful!
3.A Wooden Animal Set
Unleash your wild side with wood sculpting! Whether you're a passionate animal lover or have littles ones going through their own obsession, crafting animals is the perfect way to start carving. With just some basic shapes and enough details for recognition but not too much for beginners, these sculptures will add personality and flair that can be admired by all.
Unleash your creativity and make the perfect gift for someone special with a wood sculpture! From majestic owls to smiling seals, animals are always great inspiration. Whether you're looking for something classic like a dog or more exotic like some scaly fish, browse through Etsy and/or Pinterest today to find your ideal design – no experience necessary!
4.A Wooden Chess Set
For centuries, the ancient game of chess has captivated players with its timeless charm. Add a unique touch to this beloved pastime by crafting your very own hand-carved set! Wood carving is an excellent way for beginners to explore their attention to detail and inject some personalized character into each piece—a sentimentality no store-bought version could ever come close to matching.
Crafting a complete chess set needn't involve reinventing the wheel with each individual piece; making the head of your pieces distinct will suffice. If you're feeling extra creative, why not add an air of majesty to your king and queen by standing them just that bit taller?
5.A Chip Carving
Chip carving is a centuries-old craft originating in Germany which involves selectively cutting away parts of wood to form unique, eye-catching designs. All you need for this type of creative expression is the same wood glue and perfect chip carving knife – and then your imagination can go wild!
Chip carving is a unique and creative form of art. No tools are needed apart from the basic chip-carved knife, allowing you to cut intricate patterns into wood that would otherwise be difficult to achieve in three dimensions. From vibrant Dahlias blossoming on plaques, to beautifully detailed animals or even stunning portraits – your imagination has no limits! This type of craftsmanship makes for one-of-a kind works perfect as conversation starters and wonderful gifts alike.
6.A Wooden Heart
The heart has long been an icon for many emotions and ideas, but these days it's the ultimate representation of love. Although epoxy resin hearts are certainly beautiful, wooden ones have a special warmth that can't be denied! Their smooth texture adds something extra to any craft – making them both practical and pleasant gifts.
Want to get your hands on a cool new craft? Wood carving is perfect for beginners! With just a small piece of wood and some creativity, you can create something that'll be cherished forever. Whether it's symbols, inscriptions or shapes – the possibilities for personalizing this timeless art form are endless. Plus, painting and staining can add further character with vibrant colors that make every project unique!
7.A Spiral Tree
If you're ready to take your carving craftsmanship further, why not try creating a twisty tree? This art form is surprisingly simple and will have everyone marveling at the depth of design in your tree branch in no time. Plan carefully and focus intently while using basic tools – then stand back as onlookers admire your new spiral masterpiece!
Unleash your inner woodworker and learn the craft with help from helpful tutorials! With these step-by-step instructions, you can confidently carve fantastic projects that make for fun conversation starters or great gifts.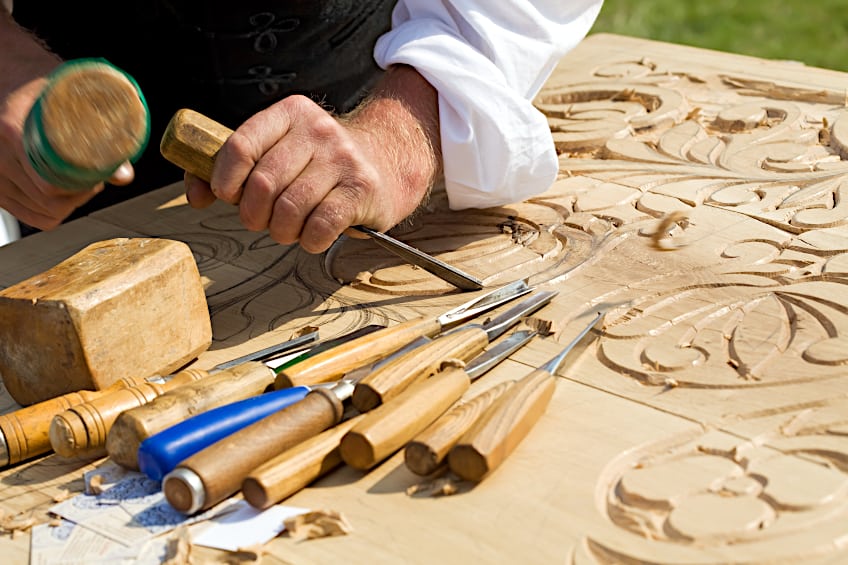 8.A Wooden Flower
With wooden flowers, you can take your attention to detail and craftsmanship to the next level. Instead of just snipping off petals or leaves like with real plants, these carvings require a sharp eye for precision as you carefully carve out each intricate vein and position every single petal perfectly!
Forgo the store-bought presents and create something one-of-a kind with wood carvings! From a lily to a rose, these rustic decorations or gifts are sure to leave your friends and family in awe of what you can make. Though it may take some effort, the end product is worth all those painstaking hours spent perfecting each petal.
9.A Wooden Coaster Set
Looking to sharpen your wood-carving talents? Start by creating a wooden coaster! It's not just an enjoyable challenge but also customizable, allowing you to choose from any type of wood. Even if the basics are straightforward, watch out for proportion and width – it might be more difficult to carve wood with than anticipated!
Crafting personalized coasters is a great way to hone your attention and precision – the perfect present for friends and family alike! Whether you opt to engrave, paint, stain or transfer photos of special memories onto them, these custom-crafted pieces will always remind others that they mean something special.
10.A Wooden Ornament Set
For a unique way to express your creativity and craftsmanship, why not try something new – wooden ornaments! With these customizable decorations, you can add special touches to every occasion. Whether it is Halloween, Christmas or just another day in the year; make any moment memorable by personalizing your home with handmade woodcarvings.
Have you ever wanted to create your own one-of-a-kind wooden ornament? With the right tools and a little bit of guidance, it's not as difficult as you may think! From intricate animal shapes to simple decorations–the possibilities are limitless. So grab some wood carving essentials like a knife or chisel and let the crafting begin!
11.A Relief Carving
Offering a three-dimensional experience in two dimensions, relief carving is one of the oldest forms of woodworking. By pressing shapes into flat surfaces, these ancient sculptures create complete solid visuals despite entire surface being no more than inches thick – bringing alive your walls with texture and depth!
If you're looking to create detailed, intricate relief art that captures a scene from history and transports its audience back in time, then more than just your carving knife is needed. From religious ceremonies to ancient cultural traditions – some of the oldest works of art have been crafted using this medium – so it's no wonder why such attention-to-detail must be taken!
12.A Wooden Bird
Crafting a wooden bird is an art form to be admired. While initially it appears simple, the true test of skill comes in bolstering its wings with perfect accuracy and detail that captures not only anatomy but also proportion alike. To truly capture such finesse requires more than just carving knives- additional tools may need to join the workshop for those wishing to carve delicate feathers into rough shape of their masterpiece!
Wood carving birds can be a creative and lucrative side hustle. From classic carvings of ducks on ponds to detailed hand-painted replicas, the possibilities for crafting feathered friends are endless! Set your imagination free as you make each bird unique – from festive ornaments perfect for hanging in one's home during the holidays to elegant baby mobiles sure to fill any nursery with warmth and delight.
13.A Wood Spirit Carving
For generations, native people have harnessed the mystical power of wooden carvings to protect and bless their communities. Carved figures were taken on hunting expeditions for luck in a dangerous wilderness, or placed in shrines as symbols of reverence with prayers offered for bountiful harvests. These spiritual artifacts continue to captivate us centuries later!
Whatever your spiritual beliefs, adding a beautiful carving to your space is an important way of bringing it together. Crafting one can be tricky though; don't underestimate the effort and skill required for even moderately-sized pieces – they may look manageable but take care not to overstretch yourself!
14.A Lamp Base
Table lamps can be an impressive way to add artistry and unique style into your home. From minimalistic designs to ornate carvings, the possibilities are endless! Wooden pieces will always bring a touch of rustic charm, made perfect with one of those modern light bulbs that imitate vintage-inspired looks. Let your creative side run wild in customizing these functional items for yourself or someone special.
Crafting the perfect lighting installation for your home just got simpler than ever! With pre-made kits, you can avoid any potential disasters and enjoy a stunning setup – all without worrying about hazardous wiring.
15.A Wooden Jewelry Piece
Add a unique twist to any ensemble with the timeless beauty of wooden jewelry. These personalized pieces make it possible to express yourself in ways that resin or conventional accessories can't, easily customized with symbols and shapes ranging from animals, numbers different shapes and letters – even religious motifs!
Have you ever wanted to be an artist with wood? Social media has plenty of creative and inspiring ideas for unique jewelry carvings that could make the perfect accessory! From simple bracelets to chokers or even wooden rings, almost anything is possible if you can imagine it.
Read more: Tung danish oil vs tung oil